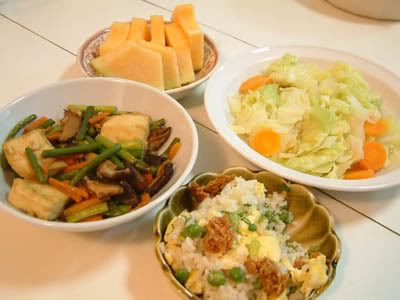 Last week's dinner
A colleague of mine who knows that I sometimes foster cats, is thinking of adopting a cat. A chap in his early 30's, he said he prefers cats to dogs, and that he once had a cat, but the cat ran away from home.
During lunch one day, he mentioned about adopting a cat again, as soon as he is settled after moving house. As he lives in a landed house, keeping a cat should not be a problem. During the course of lunch, I discovered that his new living arrangement would mean straddling between 2 homes, together with his wife. Don't ask me why this is so. I can't even afford one landed home, and this seemingly-average young man has two or more landed homes to straddle about, but I digressed.
Anyway, with his half-time here and half-time there living arrangement, I presumed he would take his yet-to-be-adopted cat with him, and train the cat to live in two homes, and I told him so.
He thought for a short while, then said:
"The cat needs to be fed everyday, hor?"
Me: *
Burst out laughing
*
"Do you need to eat everyday?" *
still laughing
*
He: "Can we leave food for the cat for a week?"
Me: *
Slaps forehead
*
In the end, I told him that he needs to give this cat adoption thing much more thought before he takes any action. If necessary, I would have to give him a true picture of the responsibility involved if he decides to adopt a cat.