After visiting Phimai, we took a bus in the reverse direction back to Bus Terminus 2 at Korat where we met another backpacker, a Dutch guy named Richard who was going to Pak Chong as well. We then took another bus to Pak Chong (in the direction of Bangkok) so as to visit one of the highlights of our trip, i.e. the Khao Yai National Park - Thailand's 2nd largest national park which was awarded the title of ASEAN Heritage Park in 1984, and declared a UNESCO World Heritage Site on 14 July 2005 (according to Wiki :p ).

Padi fields seen on the bus as we leave Phimai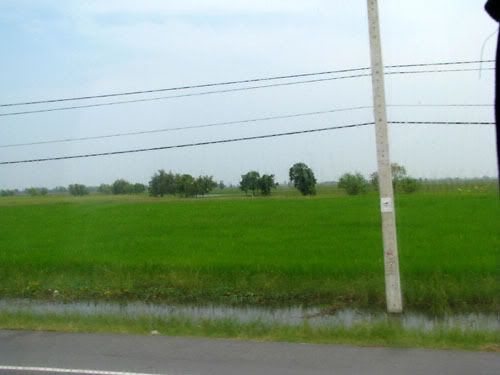 The first kitty the SO met upon arrival at Pak Chong (1.5 hrs later)




Before leaving Sg, I had make prior contact with the guide(s) via email, and we had to call him at Pak Chong to come pick us up to his guest house (but we'd never confirmed the date or time). While wondering how to make calls using the public phone, a Thai man approached us - seeing that he had a folder with the name of Wildlife Safari, straightway I knew he was just the man we wanted to see - Mr J, the guide! Heng ah!

(Note: Public phone rates in Pak Chong was 1B / 3B per min for calls to fixed-line phone and HP respectively)

Everything was settled then, and we soon embarked on the first part of our tour together with Richard and 2 other Dutch nationals, Erik and Petra...just nice for Richard to finally have some 同乡 that he can yak with! I felt more secure knowing that Petra is a policewoman (at Amsterdam's red light district, no less!) and Erik works at the fire department. As for Richard...well, he's the baby among us. *grin*

First, we visited the spring water pool - it wasn't hot, nor was it cold...just at room temperature like our swimming pool bah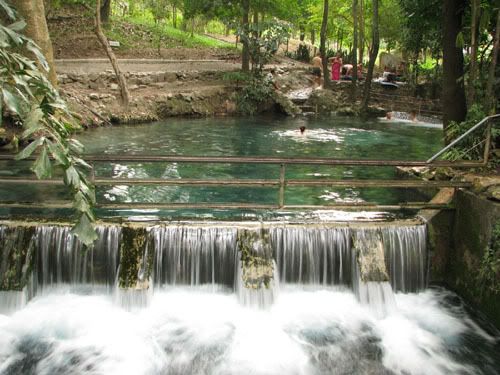 Ms Tuk the tour guide then took us to this temple and explained to us the salient points of Thai temples and the process of being a monk (whether for short- or long-term) that all Thai young men must go through, how food is given to the monks (化缘) and how many times they eat per day, etc.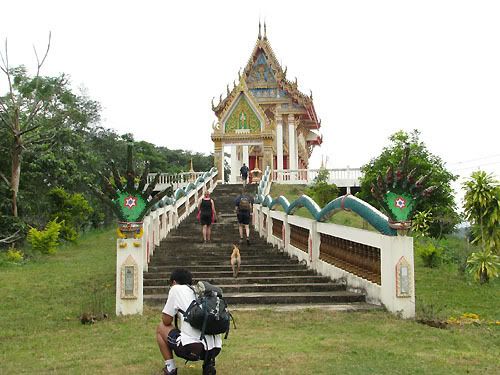 See the free-roaming dog following us like nobody's business? I think these dogs have a nice life there.

Next, a visit to an underground Buddha cave (a bit like the M'sian Batu caves in Kuantan or something) where we saw some interesting creatures




Bats in the darkness!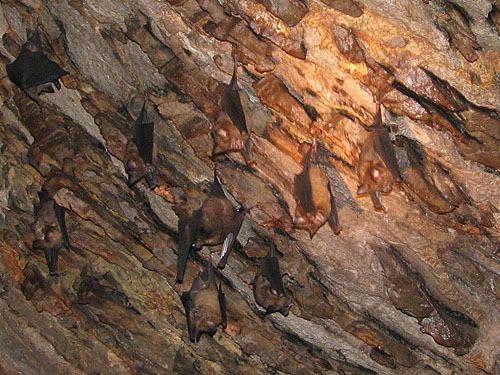 A very unique scorpion spider (on the hand of another guide who spoke perfect American-accented English; the 3 dogs outside the cave adore him!)




It rained that evening so we had to have dinner at a riverside restaurant instead of going to the night market. The restaurant was built to look like a dark, old cowboy pub and there was even a Thai "cowboy" playing the guitar and singing oldies, which "baby" Richard found kind of disturbing. The cowboy sang very well, and we had fried rice with several yummy Thai dishes, but the ang mohs each ate a plate of rice with 1 dish only... very un-Asian way of eating and a waste of opportunity!
This sweet, friendly dog is one of the 2 doggies at the restaurant - he knows how to shake paws to get his treats!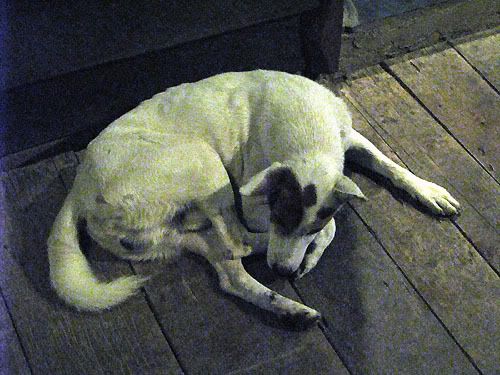 The next morning, while having breakfast at the guest house, we met this shy, little kitten who was crying loudly, probably for his mummy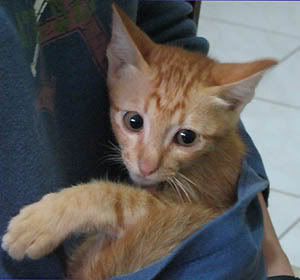 We discovered later that he is one of four ginger cats living at the guest house (in addition to 3 dogs)! :)

After breakfast, we soon embarked on our tour of the Khao Yao National Park which also included a 4km wet and slippery trek...very interesting!

It rained the whole night and was still raining in the morning, so everything was misty (a bit wasted)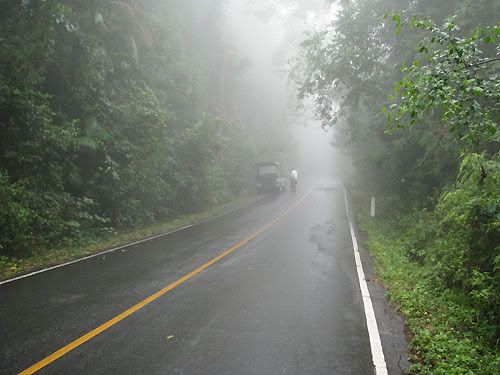 Still, the Thai guide (James) managed to spot creatures lying about far away from our moving truck... that is why we need a good guide!
Here's the tree-climbing species of monitor lizard which we could see only through the guide's binoculars, and of course with the zooming power of the camera.


Everything was misty and blur, but Photoshop saves the pic. :)

(to be continued)