Now that I've learnt to walk with the leash and walking jacket, mommy said I should learn new things, like blogging. Yes, blogging, can you imagine? She said technology keeps on advancing, just like the prices of everything, so we must keep learning to stay in touch. I've decided to blog about mommy & papa's bicycle ride on Sunday.
Mommy hasn't rode her bike for a loonngg time, so we can imagine her bike really needed the exercise. So does her butt, but don't tell her I said so or she may withhold the temptation treats.
Along the way to their breakfast place, they met this sweet ginger community cat, which papa named Garfield. Someone had already given him food.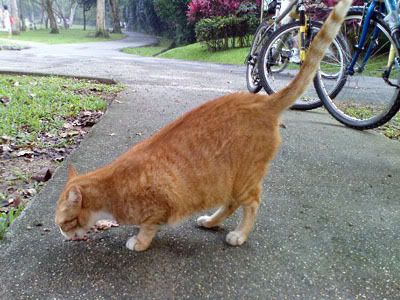 After breakfast, they met this small-size female kitty, who seemed very hungry. Luckily, mommy had dry cat food with her, so the kitty got to eat the same food as me.




They think she's a Persian-cross... and probably another discarded "property" by those nasty beans. Mommy said the kitty reminds her of her first foster cat.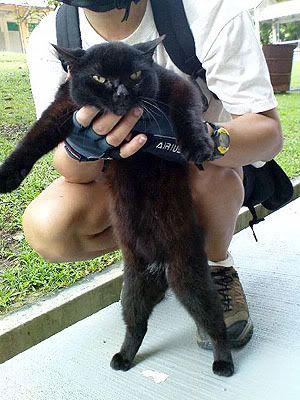 Puffy (that's what mommy calls her) is supposedly really sweet. Mommy said she could clean Puffy's eyes easily, and Puffy allowed herself to be carried without a protest, which was more than what mommy could say about me. *Grrr..*

They both luv her big, flattish paws, and once again, mommy is tempted to take her home (the horrors!), but she remembered what papa said about one is enough. *Phew!*

They cycled to some place in Seletar...




All these may soon be gone...to become a place for aeroplanes, papa said. Then the kitties living out there will have fewer places to do their toilet. Oh no! What are they going to do??




On the way back...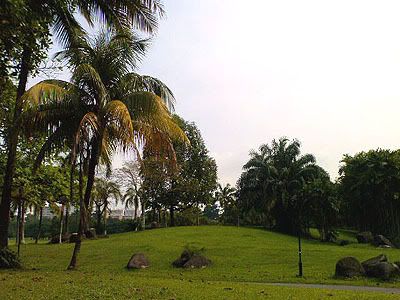 This big snail, fully crawled out of its shell, caught mommy's eyes. Hope it didn't get scorched by the sun, although I would have loved to maul...erm, I mean, play with it.




Back view of its lovely shell.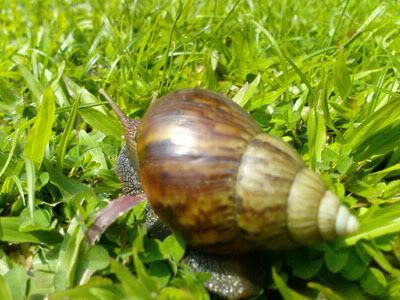 Back home, mommy & papa met Timmy. Mommy said Timmy almost could not recognised her in her cycling helmet, but she can recognised mommy's voice, as only mommy calls her Timmy.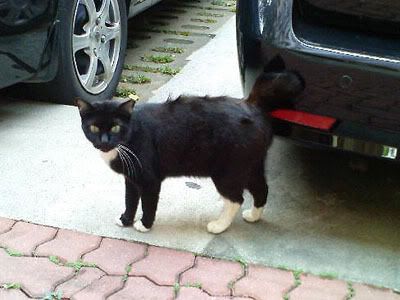 Mommy thinks Timmy is a real sweetie, but I think I am cuter.
After all the blogging, I think it's time for me to take a nap.

~ Coco MaoMao ~