Mission: To de-worm Shiny who lives almost a 15-mins walk away.
The domestic helper of the family that feeds him told me Shiny still get fed with his regular bowl of wet and dry food twice a day. Despite that, he always seem to be hungry and would come to us for snacks of dry food whenever we happen to meet him. Though he seems to be eating a lot, he was losing weight and has become rather skinny.
I thought we should try to de-worm him.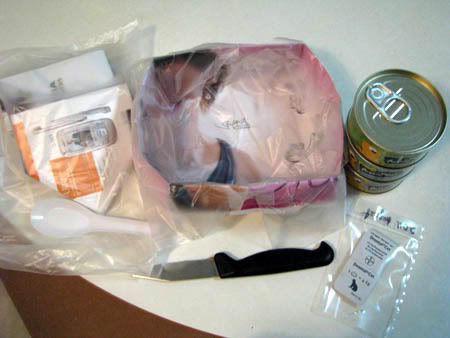 Friday night: Getting ready the feeding apparatus, with a couple of extras, just in case we didn't succeed on the first attempt or if he refuses to take the de-worming tablet. If we succeed, we shall try the 2nd tablet on Jambala, if we happen to meet her and if she's not yet been fed by then.
The idea is to get to their location by 7.30am, before the cats get their regular breakfast, so they would be hungry enough to eat our food.
All packed in the cat-feeding bag and ready for the mission.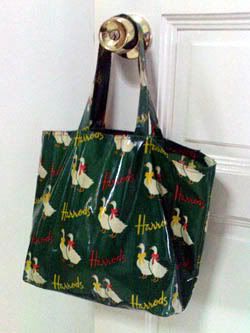 Saturday morning: Unfortunately, it poured cats and dogs. When the rain abated, we went out but could not find the regular community cats downstairs. Hopefully, they were hiding somewhere dry away from the heavy rain.
At Shiny's location, we first saw Jambala, then Humm-Humm who was scooting away. We realised BT's presence nearby and he was starting to growl at Humm-Humm. We gave BT some dry food, which he agreed to eat only after he's gotten a few strokes on his head from me. *roll eyes*
We turned around and Jambala was gone. There was no sign of Shiny. Anyhow, we went to eat breakfast, after which the SO went back to office to clear work.
I walked back and tried to find Shiny again - he was sitting right at the door step of the feeders' home all alone, probably having missed his morning breakfast call, which was just right for my mission!
I fed Shiny half a small can of wet food, followed by another quarter can, just to hide the little bit of leftover de-worming tablet. He ate them all, but was becoming less enthusiastic with each mouthful of food as he got fuller. Anyway, it was mission accomplished!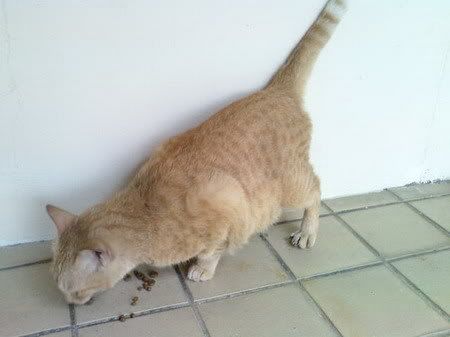 On the way home, I saw a resting Jambala, and gave her a few kibbles.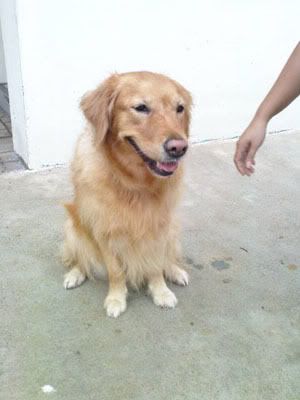 Also met this golden retriever, which of course I could not resist making friends with. :) Like most GRs, she was very sweet, and made me happy with her attention.
Her domestic helper minder was very kind to take off her leash and asked her to sit for this photo. What a charming sweetie!