Antibiotic eye drops for Shiny
Eye drops for the beans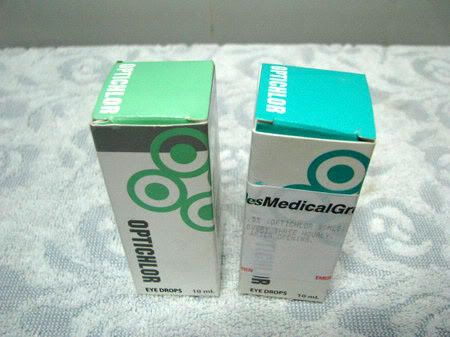 They are the same!
Almost 2 weeks have passed since we'd stopped applying eye drops on Shiny, and miraculously, her eyes have healed almost totally on their own, save for a little bit of the 3rd eyelids showing. It's a vast improvement from almost a month ago.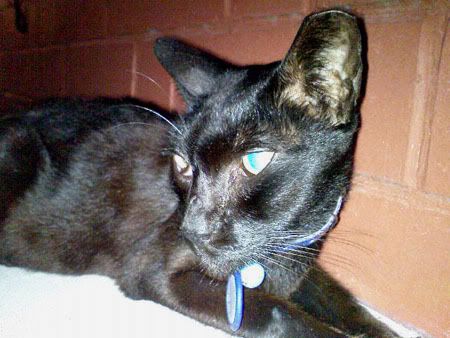 (Shiny, 28 Sep 08)
(Shiny, 17 Sep 08)
However, despite our feeding her twice a day (unless she's full from other's feeding) to try to maintain her weight, she seems to be still losing weight. L, the lady I've met has tried to take Shiny to the vet with the help of Damy (professional pet taxi), but both times, they failed to catch Shiny, who somehow managed to scoot away. And I can still remember how she struggled, bashed herself and became the screaming banshee the last time I tried to take her to the vet. Either she's really fearful of confined space or she doesn't want to go to the vet.
The person who put the blue collar on Shiny calls her JJ. Last week, that person left some dry food out for Shiny, which ended up being a mess that attracted thousands of ants - and this was just outside some residents' home. Once, I found 2 ant-infested piles (on Shiny's box and on the floor), which I had to clear and in the process, inadvertently killed some ants. :( That kind of started my exchange of "love notes" with this person for a while. I first scribbled a note, which I left for him/her, hoping that he/she would stop littering.
When I got home, I prepared a more water-proof note.
Then stuck the note at Shiny's box the next morning. Haha! :P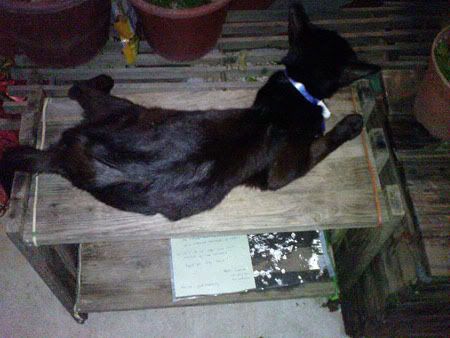 That person even left a pack of open dry food (dunno is it for cat or dog?) in between the 2 flower pots...as if Shiny will know how to take food from the packet and feed herself? >_<"
Luckily, the house-owners (a Buddhist family) did not destroy my note. That person got my message and left an note in return for me. He/she had stopped leaving out leftover food, and I'd left my email for this person to contact me, on yet another note. All notes were left intact for several days and over the weekend, until I removed them today. :)