My girlfriend called me last night to enquire about the reputation of a pet shelter. She was trying to prevent a dog belonging to our guy friend (SP) from being sent to the SPCA. We know what that means for an adult mongrel in Singapore which is not allowed to live in HDB flats (where 85-90% of the population lives) - it would be sent for reincarnation very soon!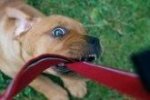 It was very disappointing, to say the least, to find our friend of many years, wanting to send his pet dog to the gallows. I don't know what prompted him to do so. My gf said she doesn't know or if she did, she's not telling. All I know is that SP got married, and moved from a house into a private condominium a few months ago. He used to live in the house with his parents, sibling & partner and the dog. And suddenly, the dog which he had for 3 years became an excess to be gotten rid of?

This morning, my gf sent me an SMS, crying and implying that there was no hope to help the dog. Immediately, I sent an SMS to SP asking why he's not keeping the dog in his private apartment, but I got no reply. While this is a private matter for SP and which I have no business in, I felt that the least I can do for the dog was to find out why, and it is up to SP to explain, that is, if our friendship still mean anything at all. We haven't seen much of SP or spoken with him, since he started dating early last year.
I still can't believe that our friend, a well-educated professional, would send his pet dog to be killed, which is against my principles. The thought is repulsive, and right now, I'm not sure I want to associate with such a person. Would you continue to be friends if you found out your friend is a pet killer?