Although not surprised, I still find the facts mentioned in Lynn Lam's letter chilling (
TODAY
, 7 September 2006).
The letter reminds me of Ong Sor Fern's review of a new Korean movie,
The Host
(
Straits Times Life!
, 6 September 2006). The movie is about a monster which emerged from toxic waste dumped into Seoul's Han river that terrorises residents. In the review, Ong said that sometimes, the real terror is not the creature, but those who refuse to help when they can. To quote Ong:
"Kang Du's (the protagonist) insistence that his daughter is alive falls on deaf ears. The police, the army and the hospitals - social structures that theoretically are there to serve and protect citizens - fail to do so.

The monster in the movie is not so much the creature which, despite its mutant origins, is driven by natural appetites for food. The real terrors are the obdurate bureaucrats who ignore pleas for help".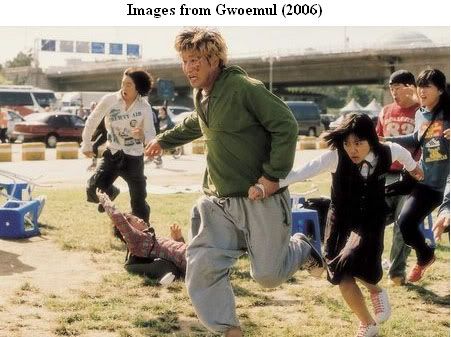 A scene from The Host
Will this society ever become enlightened?
Below is Lynn Lam's letter to the press.
~ ~ ~ ~ ~ ~ ~ ~ ~ ~ ~ ~ ~ ~ ~ ~ ~ ~ ~ ~ ~ ~ ~ ~ ~ ~ ~ ~ ~ ~ ~ ~ ~ ~ ~ ~
HOW FAR WILL THE TORTURE GO?
- Lynn Lam
Imagine watching a real-life 45-minute video of brutal torture.
On August 1, volunteers patrolling the Old Airport Road cat killing fields did that. It was the culmination of four months of painstaking work ("Cat killings still a problem", May 8; "Today it's cats, tomorrow humans?", June 28).
They watched Wong Geng Thong inflict abuse in a familiar spot.
A white-and-ginger cat, suspended with a wire noose, was revived every time it lost consciousness. When it could not be revived, Wong bashed its body against walls and the floor, kicking it repeatedly.
Sometimes, it looked like Wong was abusing a human baby. As before, the broken body was audaciously abandoned.
But this time, volunteers located Wong and lobbied the police. Wong was arrested on one count of animal cruelty.
On Aug 25, District Judge Bala Reddy "stressed the seriousness of the offence", noting the psychiatrist "was concerned he might abuse people too".
Wong received a two-month sentence; the law allows for a maximum 12-month jail term and/or $10,000 fine.
Today, David Hooi, the Bedok kitten killer, will also be sentenced in the Community Court for his second cat abuse offence, committed on June 27 (barely two months after release from his first sentence for a similar crime).
The Community Court was to provide "a problem-solving ? approach, using all the tools the community has".
But in Wong's sentence, there is no mention of follow-up to ensure he does not kill again, as in Hooi's case.
It is not just Wong's sentence that disheartens volunteers: The police repeatedly rejected crime scene evidence. One officer even told volunteers he has no experience with such cases.
If the police had conducted a search of Wong's van as volunteers pleaded with them to do, they would have found a large bag of cat food and a wire double-noose, cat-sized ? clues that Wong's abuse was premeditated, and that the dead cat was not his only victim.
Volunteers also had to scramble to re-gather supporting documents, previously submitted to the police, for the hearing.
While Wong serves out his brief sentence, a worse killer runs rampant in Jurong East. Since August, at least 20 cats have died from slit throats, decapitation, strangulation or smashed heads. Others disappeared, only to reappear with critical injuries. This killer probably carries a knife, and is a potential danger to residents too. Terrifyingly, a volunteer returned from patrol to find her car window smashed.
Apparently, "police officers have been reminded of the appropriate laws that provide for investigations into acts of cruelty to animals. We will investigate reports of alleged animal abuse seriously and with a view to prosecute". ("Police will tackle abuse seriously", March 25.)
Yet, when residents reported these cases, police told them to report such small matters to the Society for Prevention of Cruelty to Animals (SPCA) instead.
Just like in the Hooi and Wong cases.
Volunteers are determined to stop this ruthless killer. But the two-time arrest of Hooi indicates that more is needed to effect genuine deterrence.
At the National Day rally, Prime Minister Lee Hsien Loong said heartware is "about getting all Singaporeans to engage and to participate in shaping the character and the life of our society, to feel passionately about something in our country, to get together to do something about it".
Volunteers concerned with animal abuse and the implications to society, the Singaporeans the PM described, got together "to do something". They hope and "feel that Singapore is a place where I did these things and I belong because I contributed and I made it happen and I made it different".
They have achieved three arrests of two known serial abusers.
The "heartware" is undoubtedly there, but the "hardware" falls short. The police, prosecutors and Community Court must understand their roles in deterring animal abusers, because public-spirited Singaporeans cannot do so by themselves.
The writer is a member of the Old Airport Road volunteer patrol team. She urges people who witness animal abuse cases to call the SPCA at 6287 5355