Tortie cat which appeared at my block sometime in May this year, has somehow migrated to an area two blocks away. She is being taken care of by the feeder there, and seems to have settled down nicely.
Strangely, she seems to have developed an affinity for uncle S recently, and would recognise him from afar, then run to follow him. We have no idea how this happened, and uncle S hardly interacts with her, except in passing.
We have to pass by Tortie's block whenever we go to work, and uncle S will pass by the same block when he comes home from work.
Tortie does not stick to me the way she does to uncle S, even though I've had more interaction with her previously. ;)
Old photos
Yesterday evening, in trying to avoid Tortie, uncle S decided to run past Tortie's block all the way to our block. As he ran, he didn't see Tortie at her usual space. Just when he'd thought the coast was clear, he had to run right smack into Tortie, who was in fact, waiting at the ball court!
Tortie got a slight shock in seeing a running uncle S, but within seconds, recognised him and decided to stick to him. Ha ha ha!!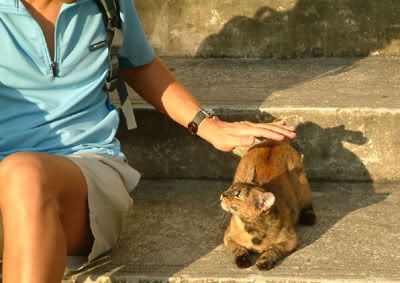 Tortie: Uncle S, you're my Singapore Idol... meeooww!
Perhaps Tortie has a special affinity with men. Once, I had seen her meowing and following a men who was talking on his mobile phone while pacing up and down. She must have thought that the man was speaking to her, and decided to follow him around, and have a conversation with him.
:)