KXBC deserves a prize for being sharp. Indeed, Yoda is that
Siamese x
that was first discovered at SL's block last Wednesday, then got adopted by the 3 siblings on the same evening, and now he is at my place.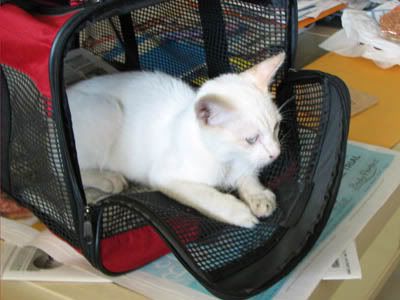 Me and the SO were out last Friday night when I got a call from my neighbour (the cat care-giver) Ms A, that she'd seen the Siamese x kitten at my block on Friday morning, all skinny and dirty. Straight away, I knew that Siamese kitty had been thrown out by the adopters. My guess is that the adoption probably failed due to a lack of experience and failure to introduce proper house-breaking measures. Ms A was working till very late that night and asked me to feed the kitten. By the time we got home near midnight, we couldn't find it even after circling around several blocks.

On Saturday morning, just when my mind was swelled with the ever-increasing list of chores that I have to do over the weekend, my SO found the Siamese kitten downstairs. With one look at him and the stains around his backside and tail, we knew the kitty had diarrhea. We intended to clean him, feed him, and then release him back downstairs. During bathtime, in his wet, naked state, the SO thought the kitty looks like Yoda from Star Wars.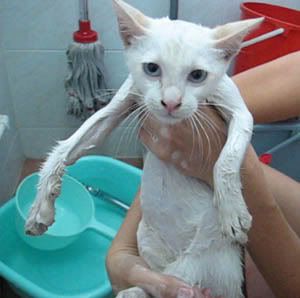 I'm not green, so how can I be Master Yoda?


In less than an hour at our home, little Yoda had a couple of episodes of diarrhea, so that confirmed his diarrhea problem. It also confirmed that plans to complete any of my numerous chores were disrupted. Out came the cat cage, the laying of newspapers, and frantic cleaning up. As Yoda was not yet toilet-trained, he made a mess in the cage, so I put him inside the poo bin and held his paws to scratch the cat litter.
This was what happened next: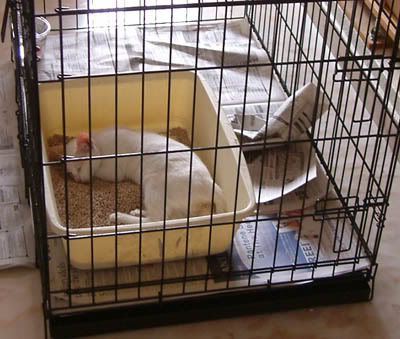 The little fella decided to sleep in the poo bin.
As it was the Deepavali holiday, most vets were closed for consultation except for emergency cases (for which we have to pay a bomb). So I tried Vegancat's suggestion and syringed Yoda with a small dosage of Smecta, hoping that it would at least lessen his diarrhea (and I wouldn't have to clean up so often). I also syringed him with some glucose. This ritual went on throughout Saturday as I accepted that I was grounded at home. Thankfully, Yoda is a sweet boy, and perhaps being unwell, tend to sleep quietly most of the time.
We took him to the vet on Sunday. While waiting, Yoda remained a cool cat even in the face of a couple of excitable dogs. He was cool too when the vet took his temperature and gave him a jab. Although I can't say the same when I administer his diarrhea medication and antibiotics, which makes him foam at the mouth and very uncomforable. The poor boy probably wonders why I'm doing such horrible things to him. :-(
The Force is pulsating through my body, coming out in little spurts of smelly gas...
On Sunday evening, Yoda became more energetic, so we let him out of the cat room under close supervision. This morning, baby Yoda passed out a piece of solid poo, so I guess he should be getting better. I just hope he won't whine so much about being kept in the cage, at least until he's consistent at using the litter bin.
There's a baby Yoda in my home