I don't celebrate X'mas, not since I left my ex-company where many colleagues loved to give each other gifts, which meant that I had to give them gifts in return. That meant having to spend about two to three hundred dollars every year just on the gifts for colleagues, not to mention the amount of time spent on shopping and gift-wrapping. I am quite glad that those days are over. : p
Yesterday, however, I think I'd receive an unexpected X'mas present, and that is having to pay only $7.10 for the following cat stuff at the pet store: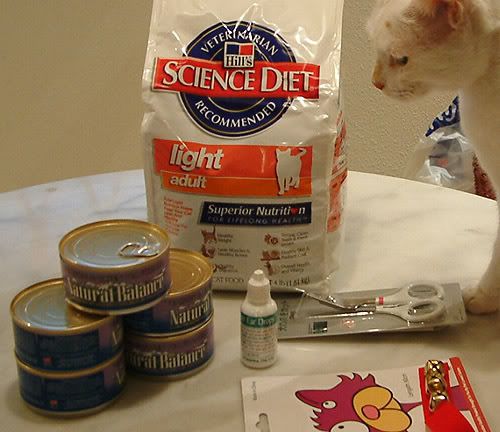 Cat not included in the purchase
I bought Light pet food for Sugar, who has gained weight (winter season weight gain?), a pair of nail clipper for pets, Nova Canker ear drops for MIL's cats and 5 cans of NB Venison & Pea Formula for Jon Jon to try. The red X'mas ribbon was a free gift from the shop.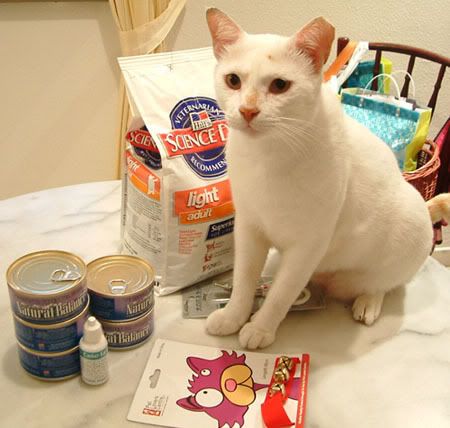 Sugar:
Really? Only $7.10? In Sing dollars??
Well, at the pet store (where the staff were helpful and friendly), I suddenly realised that they give 15% discount during members' birthday month, and I also suddenly realised that I could use the $50 cash vouchers (f.o.c. from the credit card company) at the pet store, so it was a pleasant surprise, twice over! It was a good feeling to get such a once-in-a-blue-moon deal...kekeke~!
By that time, it was raining quite heavily, so I pack some food home for dinner, so that we won't have to go out to eat. I went to buy take-away dumpling and fried rice from the shop nearby.
Micro-waveable / steam-able & waterproof box packaging...a wonderful contraption!
Even though I was buying take-away, the receptionist was kind and allowed me to sit down at one of their tables which had cutlery all neatly laid out for dine-in customers. Yet another service staff came to offer me a nice cup of hot Chinese tea, even though I pay no service charge for take-away. Their kind gestures were very much appreciated, as I had spent over an hour standing at the pet shop to scrutinise the cat food ingredients and was by then, feeling tired and very thirsty
(side point: I noted that both staff were Chinese nationals who were welcoming and spoke well)
.
All in all, I had a very lovely and happy day, which ended with good food and good fun with Sugar, i.e. making him wear the red X'mas collar for a few photos, much to his consternation, but to my utmost amusement.
:)