On the night after their sterilisation: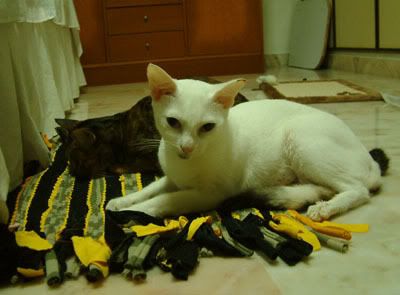 As they were wobbling to nowhere, I put them on the cat rug.
Coco was in her "faithful servant" pose, with eyes half-closed, and would have stayed that way if I hadn't put her in the cage.
"Hello, are you my foster mummy?"
Coco in a daze and spotting her ear-tip.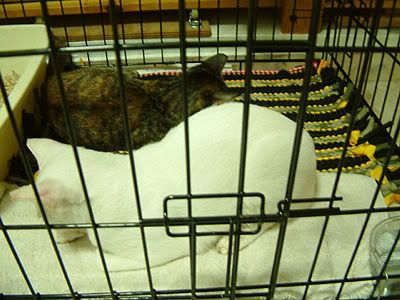 The gals finally settled down and conked out.
Snowy looking more awake the next day, but I guess she was still in pain, as she later hid under the chest of drawers.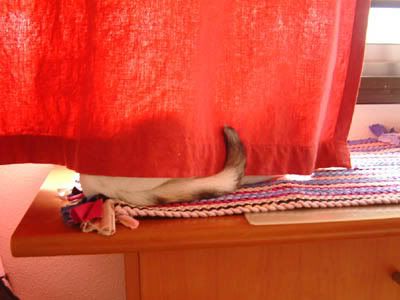 Snowy's favourite sleeping place.
Meditating or was that a painful expression?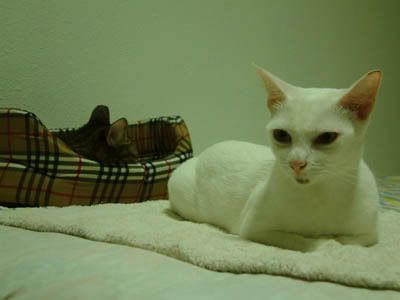 Snowy looking better on the 2nd evening. Coco, the spunky gal was 75% back to her normal self.


The cat sisters are much better today and ate quite a bit of the canned ocean fish this morning (they weren't interested in the home-steamed chicked). They've been peeing but have yet to poo.
The swell on their wounds have gone down substantially, and the pinkish bruise has faded too. All I can see now is a bit of folded skin like a dimple on their shaved tummies. The vet has done a good job. ;-)