Ahem... the word is
yeow gwee
(to quote ksn). Yes, Snowy has turned into a
yeow gwee
* .
Snowy's obsession with food was the reason that I've stopped free-choice feeding at home, thereby depriving Coco of her favourite way of consumption. As Coco is a small eater, I try to spread out their diet by feeding them several times a day:
Evening dinner, after work - usually Fussie Cat** wet food, about 20g each
Late-evening snack - about 10g of dry food each
Supper, before (my) bedtime - 10g of kibbles each
Morning breakfast, part 1 - in the early morning, if I happen to wake up at 3am or later - 10g of kibbles
Morning breakfast, part 2 - when I get up at 6.15am - 10g of kibbles
Morning snack (before I go to work) - 10g of kibbles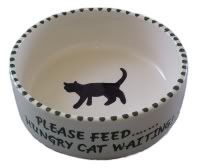 So they get to consume an average of 50g of dry food, and 20g of wet food (if not more), excluding cat treats. I think this is definitely sufficient for Snowy, yet she behaves as if I've starved her for 3 days and 3 nights!
Every movement that I make at home, if it remotely resembles moving towards the direction of the cat room, Snowy will make a sudden dash into the cat room and stop right in front of the food bowls to wait for more food! It's like 1 second ago she's in the hall, and the next ... *SWISH !!* ...she's in front of the food bowls, kind of like the way Jim Carrey moved from place to place in the movie
Mask
when he's in his green trance. This happens soon after each meal, and even if I'm not walking into the cat room.
I don't know how it happened, but that's how a princess turned into a
yeow gwee
. Very 丢人现眼 (embarrassing) . Tsk...tsk... like that sure 没人要.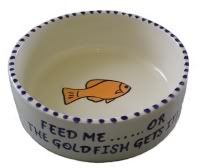 Footnotes:
* Yeow Gwee : Hokkien for hungry ghost - used to describe someone who is very greedy or desperate when it comes to food
** I discovered that Fussie Cat (from Japan) and Fussy Cat are 2 distinct brands of cat food; the former is irresistible even to fussy cats.