There was some interesting exchange regarding the feeding of cat grass and wheatgrass in an earlier post. I gathered that it's possible to feed the cats cat grass, wheatgrass as well as the normal wild grass that grows by the roadside, provided you pick the younger, less coarse ones.
I wonder
: do the cats throw up after eating the grass? Or will they enjoy eating the grass as part of their usual diet, like chomping on a salad?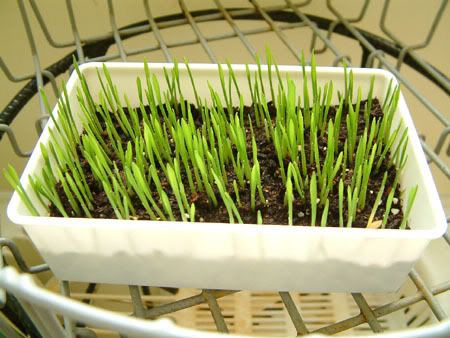 (ASAP grass, 2nd day after sprouting)
Meanwhile, the
ASAP
grass have grown to about 8cm tall now, and are still growing. I fed a small strand of the grass to the cats, and Coco, who had eaten bits of lettuce before, seems to like it, but Snowy didn't take to it.
Cat mystery