After visiting the Khao Yai National Park's museum, we were driven off to another part of the park where our more exciting journey began. We were to trek a 4km trail which will end up at the forgot-the-Thai-name waterfall. While this is not the biggest waterfall at the park, it is famous for another reason - it was the location used to shoot the movie "The Beach" in 2000 which starred Leonardo Dicaprio.

The 4km trek was actually not very long, but the trekking required a bit of effort because it goes through some dense jungle trails made wet and muddy by the overnight rain. There were several fallen tree logs along the way and steep slopes which at one point required us to go down on all fours to climb down.
At the entrance to the trail (where the campsite is), we saw a sambar deer very near to civilisation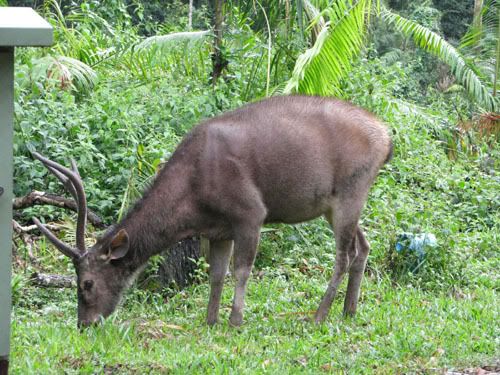 Sambar deers are one of the largest (if not the largest) deers found in Asia; this one is not quite the biggest, as I've seen one that was bigger and taller than an ostrich at Taman Negara Resort in Pahang
Here's the galfriend




There were lots of these monkeys at the campsite, and almost all of the mature ones have bright red backsides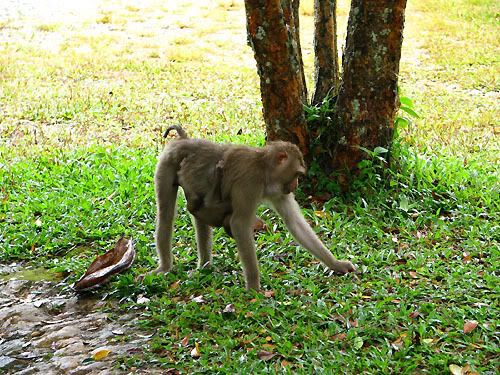 Feeding the animals (by humans) is strictly not allowed at the park
Along the trek, we saw the swimming variety of monitor lizard (also common at our Sg Buloh nature reserve)


And a rapid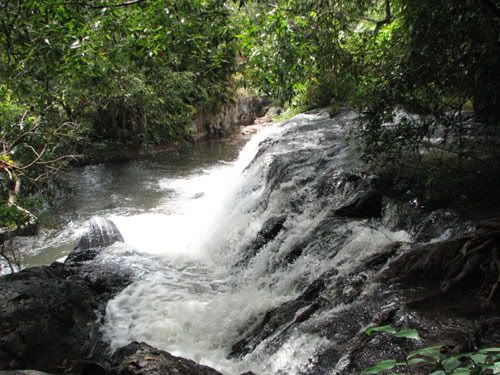 A very large dunno-what-name spider - this large one is the female as the male one is very tiny and red in colour (so the guide said)


Then we saw this across the river bank...

*Derng-derng, derng-derng, derng-derng... cue scary music*




Looks very menacing....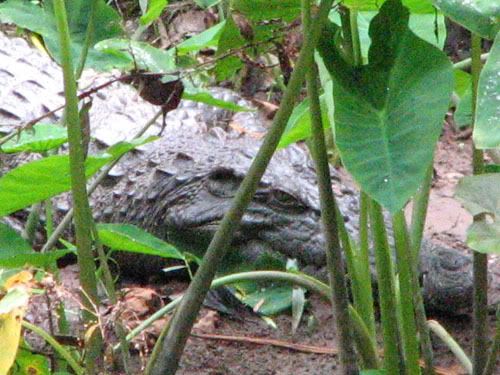 I scared...!!

Ahhh....this guy was quietly resting only a few feet away from where we stood, on a tree trunk at about shoulder level, and so well camouflaged that we nearly missed him. He has a beautiful coat.


Then, we heard noises that sounded like a model aeroplane flying overhead, followed by loud, scratchy, flapping noises...
The guide excitedly cued us and loudly whispered : ..... Hornbills!
It was exciting because these are the Great Hornbills which have wingspans of up to 2m long...no wonder they make so much noise from flapping their wings!



Amid our excitement, we tried to keep quiet and quickly followed the guide up a steep slope to see a couple of them. I didn't even dare to open my velcro-ed shoulder bag to take out my camera for fear that the ripping sound of velcro may scare the hornbills away, and then I would get blamed forever. :-~

Along the way, we saw several elephant trails (with big roundish footprints) and lots of elephant dung, but alas, we didn't see any wild elephants, unfortunately. :-(