Spud's family has gone for a short break, so I got the chance to cat-sit Spud again. :-)




I'd forgotten how much wet food to feed him, so initially gave him half a can of Fussie Cat (1 can is 80g) which he gulped down in no time, followed by a quarter can, and then another quarter can.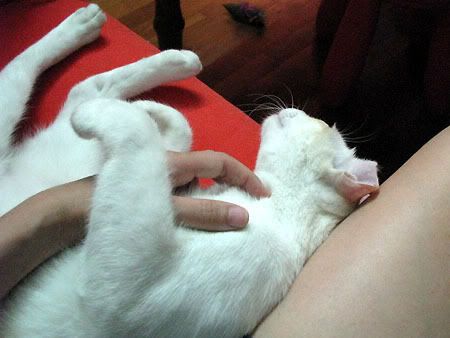 In the end, Spud got to eat one whole can...which made him very sleepy, so he leaned again my thigh and napped contentedly on the sofa.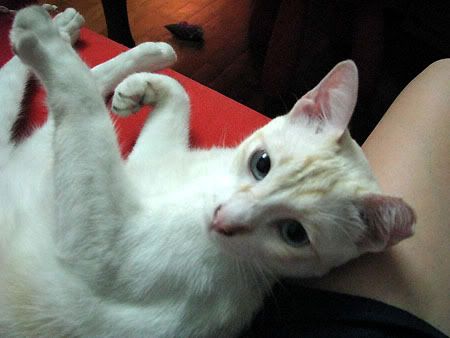 A SMS check with his mommy confirmed that Spud is given half a can a day.
Oh well, Spud must be a full and happy boy tonight! *grin*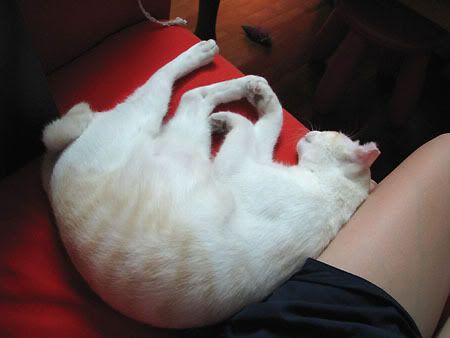 The sweet boy is chubby and so nice to hug.

Actually, I'd long realised that Spud must be the white kitten that I'd once took to the vet and fostered at home a year ago. After releasing him back to the community, he was somehow rescued by my neighbours and became their pet.

That kitten was called Yoda, and has the same unmistakable kinked tail (and blue eyes) as Spud.



I'm glad that, like ET, Yoda has gone home.

:-)
ps: the SO told me that while I was gone to visit Spud, Coco kept going to the main door and meowed loudly; 莫非 she knew I was going to share my love with Spud? Heh...