Now that Jambala has come and gone, it's back to regular routine.

The cage had been cleaned, wiped, dismantled and stored away.
Coco remains reluctant to hang around or sleep in the cat room, unless I happen to be there. However, she did snuggle with me when I went over to sleep on Saturday night.





Coco still loves my blanket, even if it was folded into a small rectangular bit. She was quite happy to "chope" my blanket for the whole evening, and remained sleeping in the master bedroom.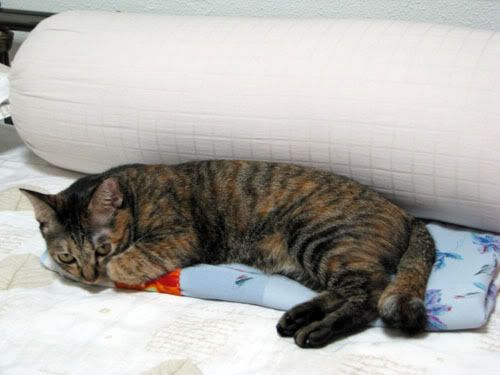 Her coat has become 'A' grade - being plush, very soft and silky...very lovely for stroking.


Acting cute is no use, ok! We know what you did yesterday, Coco!




I had left my folded umbrella on the sideboard (which is right beside the main door) in the hall, but when we got home from work, the brolly had its "stem" pulled out, and guess where we found it --> on the floor of the kitchen bathroom! So, the brolly must have been dragged from one end of the flat to the other. Plus, a couple of things in the bathroom sink were toppled over.

We weren't sure what Coco did exactly, but she very lihai (很利害) hor!?


Coco striking her Ms Grumpy Face pose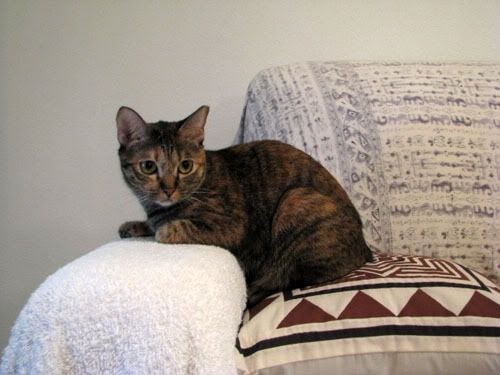 To my surprise, she's hasn't joined me in bed for the past two nights, but had slept with the SO in the master bedroom (on the same bed but apart). I was relieved, of course, since I finally have the freedom to toss and turn in my bed freely. Heehee!

My colleague is asking for Coco's photo to show her friend. Hmm...we shall see what happens.