Coco checking out the pet carrier on the first night of Jambala's arrival





Hissing and growling were part of the cats' normal repertoire, and check out Coco's tail. ;)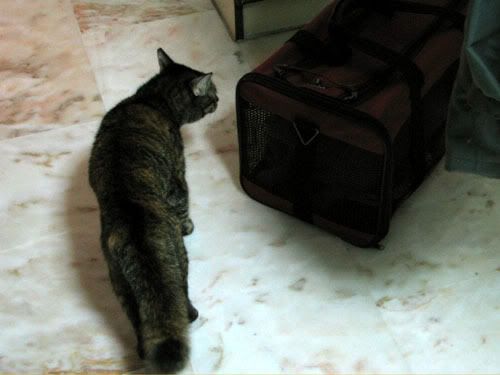 Jambala was kept in the cage in the "cat room". She was quiet, and didn't disturb our sleep at all. The rather edgy Coco also became somewhat quiet that night.

Jambala on the morning before her spaying. She instinctively used the litter bin during the night.





Back from the vet clinic, post-spaying. The first thing Jambala did was to step into the litter box to pee.

Afterwards, she started eating the wet food, followed by the dry food, but later, threw up everything on the newspapers, but she was fastidious enough to rest inside the litter box!




So very tired and groggy...





Spotting the latest fashion among community cats - a tipped left ear!




As Jambala fell asleep in her groggy state, Coco went to check her out. I sayang-ed Coco which helped to calm her down, so her puffed up tail dissipated.

At one point, Jambala hissed at Coco, and Coco hissed back at Jambala!
I believe both cats weren't being aggressively antagonistic, but were hissing at each other as a warning.





Jamabala looking less groggy this morning, and even walked out of the cage, after which it was difficult to get her back into the cage. Just before I left for work, I went to check on her, and found that she had poo-ed in the bin...good gal !




I couldn't take leave today, so had to leave her in the cage while I was at work. When I rushed back home in the evening, I was very relieved to find everything in the cage intact and orderly. Phew!

This evening, she ate more food without throwing up. I left the cage opened, but she didn't want to come out, but slept through most of the time, and she purrs when I talk to her.

:)

Dilemma