During this recent cat-sitting episode, I've made an effort to spend more time with Spud, like dropping by to visit him twice a day - once in the morning before I go to work and once in the evening, when I would spend up to an hour or more at his home. His mom has been giving him a half a can of
FussieCat
both in the morning and evening, so I did the same.
I will normally do the necessary first, i.e. prepare the canned food for Spud and proceed to clean up his litter tray, while all the time talking to him. However, Spud the
manja
boy and headbutt champion will not let me do my job in peace unless I give him repeated share of hugs and headbutts to his satisfaction. In the midst of eating, he will continue to butt me and try to spread the fishy scent from his lips onto my head or my face. :P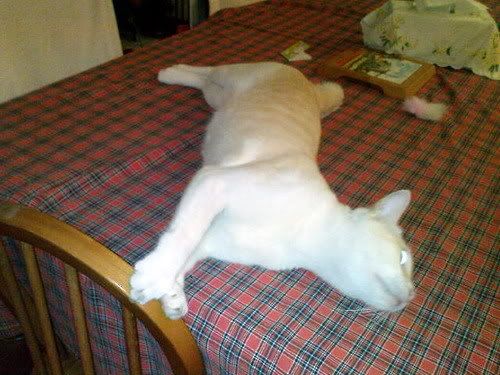 After he's fed, I will play a little with him, or try to clean his nose (which always have dirt every few days). Sometimes, I will spend my time there reading a book, or drinking tea (teabag brought from home) or watch a little bit of cable on their tv. And no, I normally don't eat at their home during cat-sitting, although Spud's mom had asked me to drink the egg nog with rum, eat up the avocado with cream and gula malaka as a dessert and the tiramisu.
However, I did take one cup of tiramisu home to share with the SO, coz Spud's mom makes wonderful tiramisu, which is light and not too sweet. In fact, both of us have been the fortunate food-tasters of his mom's cooking, and given many food items over the past months. Heh... :)
Yummy tiramisu!
With layers of light sponge and mascarpone cream cheese mixture within...
very sedap
!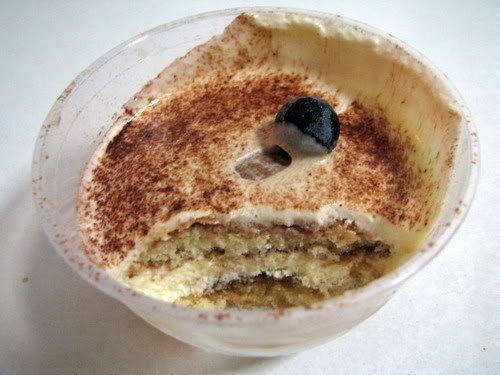 I think it will be very difficult not to put on weight from henceforth...
>_<"