I might have mentioned previously about how Jon Jon & Sugar came to be community cats. They were already in the estate when I moved here 4.5 years ago. According to Ms A, their chief caregiver, both were home pets that were left behind / abandoned when their owners moved away.
Jon Jon (7 Jan '08)
Sugar is the undisputed king, always taking the lead in most of the activities that community cats do, such as inspecting his territory, protecting it and chasing away newcomers or even "old-comers" who are thinking of taking over his territory.
Although I'd seen him acting tough and chasing away a male ginger cat that had strayed into the territory, Jon Jon is usually known as the meeker one, always kinder to newcomers, being curious of them and more forgiving of them, especially if the newcomers were kittens/young cats. His behaviour and somewhat feminine looks always confuse us as to whether he is a boy or a gal.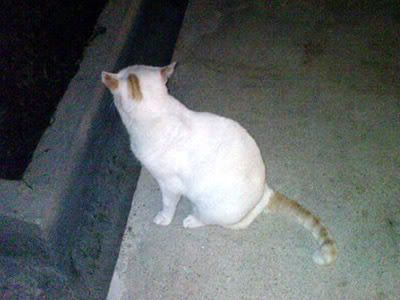 Sugar (7 Jan '08)
Sometime last week, Ms A noticed that Sugar wasn't eating for 3 days in a row, and suspected something must be wrong with his teeth or gums, and decided to take him to the vet. The vet's prognosis proved Ms A right, and once again, the tender, observant care of Ms A managed to save the day for our dear Sugar. After a day's stay at the vet, he's come back and is starting to eat a little dry food.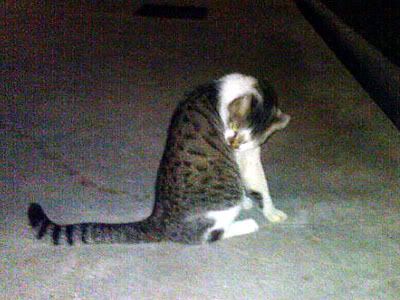 However, what I wanted to remember is a lovely anecdote about these 2 brothers related to me by Ms A. When Ms A took Sugar away in a carrier with the intention to visit the vet, Sugar, being unhappy to be confined, started creating a ruckus while inside the pet carrier.
Hearing Sugar's frantic cries, and much to our surprise and amazement, Jon Jon too, started protesting and gave Ms A a bite on her lower leg! Ms A scolded Jon Jon (obviously), yet Jon2 continued to follow her and tried to "attack" Ms A as she walked away!
Ms A said that Jon Jon was trying to protect his brother Sugar! Ahahahahaa!!
We were really flabbergasted by this tale, to say the least! We'd never ever thought that the supposedly meek Jon Jon would exhibit such aggressive behaviour, much less be so heroic as to disregard and disobey his chief feeder and caregiver to give her a bite! Kekeke!
There's a small wound on Ms A's leg but she's none the worse for it, and like us, she is very charmed and warmed by Jon Jon's loyalty and protectiveness towards Sugar (who has always been the protector).
Jon Jon still sniffing out Sugar with the weird smell of the animal hospital
I'm really charmed by Jon Jon's behaviour and I feel proud to have these 2 lovely icons living amongst us. The feel of this place definitely would not be the same if they weren't around.
Though they may or may not be biological brothers, Jon Jon and Sugar's brotherly love towards each other has once again proven that animals aren't the useless, unfeeling beasts that some humans regard them as, but just like people or perhaps better than some people, they are more loving, feeling and loyal than some humans could ever be.
:-)