Last Friday afternoon, I was teeming with anxiety. >_<"

Decided to catch a community cat with eye infection,
which needed vet attention.
I didn't know if I can get her, coz she's not from our area,
but lives a good 15 minutes' walk away.
I hoped I could find her, that she would get into the cat carrier,
coz my "manpower" had to work late that evening. Argh!

In the end, I found her and got her into the soft carrier.
Problem is, she refused to be confined, could not be confined,
kicked up a big fuss, banged herself inside the carrier,
screamed, moaned and howled for the whole street to hear!
Alamak! Never would we imagine,
that a sweet, docile cat would behave this wild and untame-able!

In the end, I had to let her go.
Nevertheless, I went to the vet,
with a cat carrier that was without a cat.
Showed the vet the poorly captured photo,
took back some antibiotic eyedrops,
which we hope will work for the cat.

The worst thing was,
while walking through the void deck (to the bus stop),
I tripped and fell, because I didn't see a very gentle ramp,
most likely built for the cleaner's "truck".
Fell flat on both my knees, which got me shaken for a while,
while an (older) aunty stood by and looked on, as if watching a tv drama. >_<"

Sigh...what a bummer of a day,
and my scraped knees and bones are aching.
Ow, ow, owwwwww...!!

*Roll Eyes!!*


Here's Shiny, the culprit :P
A skinny, docile female cat with a loud voice...much louder than we'd ever imagined!
She ran far away from me after I reluctantly released her from the carrier
Had to grab her with one hand with the other holding the hp to snap a quick picture.
From the photo, the vet said it's likely to be conjunctivitis.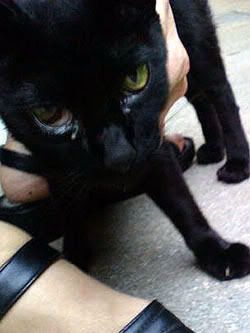 Shiny, with less than shining eyes last Friday
We've gone back to look for her and (forcefully, against her loud protests) applied the antibiotic eye drops 3x already since Friday night. Her eyes are tearing less now, hope they will heal soon.