With the retractable leash, I can now sit by the gate to watch the news on tv while Coco walks by herself.
I got the leash yesterday, but could not figure out how to retract it, as there was no extra button for that function. Today, I went to PLC during the lunch hour to ask, and the nice young man opened up a set to show me, even though I hadn't bought it from them (he didn't know, but he was certainly very customer-oriented...well-done!).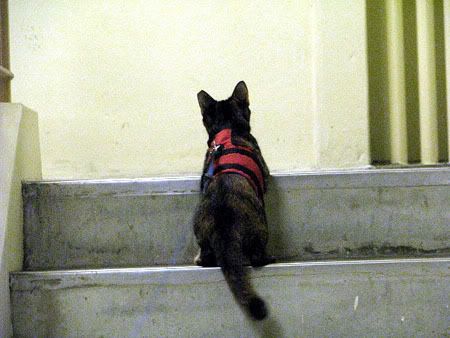 Actually, the leash is self-retractable and idiot-proof. The young man must think I'm an idiot!
I realised the one I have must be defective, and got it changed at my usual pet shop this evening.
Now Coco is free to roam about the corridor and I can keep an eye on her while multi-tasking. :)
At one point, I looped the leash handle over the gate's handle, so that I can go get my camera. When I returned to the gate, Coco was staring in my direction with big, round eyes. She must have wondered where I've been, to have left her alone.