Today, I got news that an old friend and the mascot of MC (a private shelter) passed away yesterday. We first got to know Oliver and the other cats at MC in 2001, when the SO (my then bf) and I would cycle to MC to visit the cats regularly. I loved to be there, to be surrounded by all the cats, whether we were feeding them or doing the usual housekeeping chores, and I would often miss the cats if we hadn't visited for a while.
Oliver was one of the sweetest cats that got along with most cats... well, except for Simbal, the crossed-eyed cat. For some reason, Simbal loved to pick fights with Oliver, until we can literally see fur flying in the air, i.e. mostly Oliver's!
We all remember him as the cat who loved to hug people.
"Liver Boy" clamouring for a hug, with Penny, a rescued Persian by the side.
He would put both his paws on our shoulders, until his face was mere centimetres away from our faces!
That's him giving me a hug. :)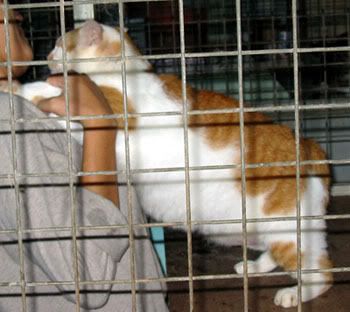 Oliver the fat boy squeezing with the young kittens in the basket - see how much space he'd taken up! :)
(Oliver's photos taken in Sept 2002; RIP April 2008)
He would be about 9 years old this year.
Goodbye Liver Boy. I am glad to have made your acquaintance.
We all loved you and we know you loved us too.