Just how lucky can a cat get?
Coco received these cat treats and catnip, even as we've yet to get over the excitement of the matatabi and its dancing effects. These came from the US and were from the same blogger who got the matatabi in Japan for Coco. ;-)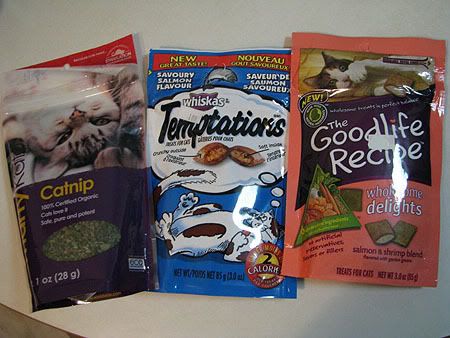 I've been giving the treats to Coco judiciously, and there's still a pack of
Temptations
from EJ left, despite having given a chicken-flavoured pack to Spud earlier this year when he was feeling down from his skin problem and was denied his favourite wet fish food.
Current cat treats count: 2 packs of
Temptations
, 1
Goodlife
(really!) treats and half a pack of salmon sashimi, all of which should keep Coco happy for months to come.
A
BIG Thank You
to all the cat treat-giving aunties for your affection shown towards Coco and generosity to us. I don't think Coco should keep the good fortune all to herself, so I will make sure she shares her cat treat gifts with the community cats downstairs. :-))