I'm not a sports fan (though I don't mind ogling at sportsmen/sportswomen with

Ooh-la-la~!

physiques :P), but I love this beautiful story, which perhaps reflects the true spirit of the Olympics.
ST 11 July 2008
A continuing series on memorable Olympic stories. Tomorrow: Persistence
Sportsmanship: Jesse Owens & Lutz Long
'Hitler must have gone crazy watching us embrace'
By Rohit Brijnath
A GREAT long jumper is struggling to qualify for an Olympic final. A rival steps in to help him. It seems at best a nice gesture, an old-fashioned extending of a hand of decency, nothing more than that.
But it is much more than that, which is why for 72 years people continue to resurrect this story as an example of Olympic man at his best.
Jesse Owens, the jumper who was struggling, was an athletic genius. He was also black. It should not have mattered but of course it did.
It mattered in America, where he often ate breakfast in the car because he was not allowed into many restaurants.
And it mattered in Germany in 1936, when Adolf Hitler was propagating his despicable theories of the superiority of the Aryan race, and when in some newspapers, pictures of an ape appeared alongside Owens.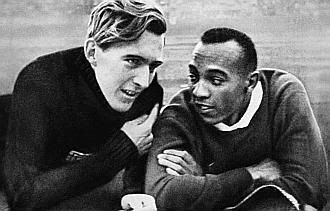 24-CARAT FRIENDSHIP: German Lutz Long's (left) generous gesture towards American Jesse Owens was a moment of beauty in a time of ugliness at the 1936 Olympic Games. -- PHOTO: AFP
On the day of the long jump, Owens ambled down the runway in practice and casually ran into the pit - only to be horrified when the judges considered it a qualifying jump and raised the red flag for a foul.
Suddenly, only two qualifying jumps remained.
Owens again overstepped the take-off board. Foul.
One jump remained.
Lutz Long, a gifted German long jumper, was blond, blue-eyed and the archetypal Aryan. Owens was his opponent and the better jumper. Still, in an act of startling generosity, the German approached the American and pointed out that the qualifying mark was so easy that if Owens took off from behind the board he would still make the final.
Owens listened, took off from a foot behind the take-off board, and qualified.
Then the two men duelled in the final. Owens led. Long equalled him. Hitler applauded. But Owens was too good eventually, and when he broke the Olympic record with his last leap, Long was the first to embrace him.
Owens understood immediately the enormity of the German's gesture, a moment of beauty in a time of ugliness.
'It took a lot of courage for him to befriend me in front of Hitler,' the American said later.
'You can melt down all the medals and cups I have and they wouldn't be a plating on the 24-carat friendship I felt for Lutz Long at that moment. Hitler must have gone crazy watching us embrace.'
Long died in the war, but the story had one remarkable postscript recounted in Donald McRae's brilliant book, In Black And White.
In 1951, Owens returned to Berlin and to the Olympic Stadium, and in the dressing room later, a young boy asked him to autograph a scrapbook.
As Owens scrawled his name, he noticed a familiar picture. He took the scrapbook and said: 'That's Lutz Long.'
And the boy, Karl, looked at him and said: 'My father, sir.'