It was almost midnight and foster mommy was preparing to sleep in the cat room (with me) when she realised she'd forgotten to put on the freshly-laundered bedsheet. To lay the bedsheet, she removed the books and stuff from the bed, including my cat bed.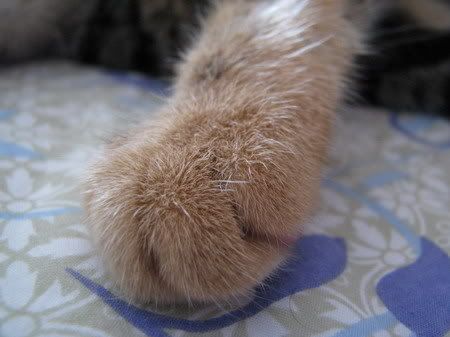 As she took my cat bed to place on the floor, something flew out of it suddenly! Ooops! There was no way of hiding it, so I stayed in the master bedroom with uncle S and hoped for the best.
Mommy turned on the bigger white light and got a shock! She saw things on the cat bed... things which looked like my poo! >_<"
From the other room, I heard her muttered "Oh shit!" (no pun intended) but there was no one to hear her as uncle S was already snoring in dreamland. :P
Anyhow, mommy had to contend with doing the cleaning up all by herself. Upon closer inspection, she realised the "cylindrical tubes" of poo had little bits of what looked like RC cat biscuits. That's when she realised it was cat vomit, not cat poo!
I guess she must be relieved to find cat vomit instead of cat poo in the cat bed. Knowing how fastidious and smart I am when it comes to using the litter bin, to find cat poo in the cat bed would mean something is grossly wrong, which would be more worrying to mommy.
I dared not move from my cushion in the master bedroom (hoping I'm invisible) while I waited for the scolding to come. Fortunately, it never came. Instead, mommy came in to
sayang
me a bit and asked if I was alright. Awww... at that moment, I felt like I'm the most loved cat in the house.
:))