More shananigan from HRH...
Coco getting very excited at what's outside...
Very busybody there
Was there a lizard or insect somewhere?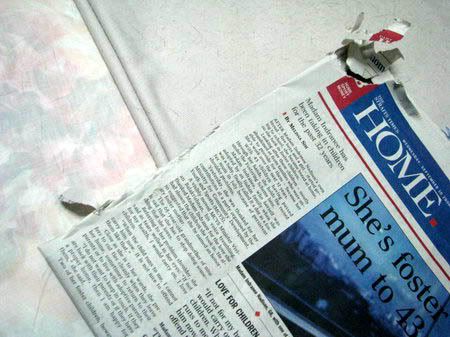 Last week, we came back home to find this!
I showed Coco the chewed up paper and straightaway, she knew what she did wrong and ran away...
...into the pet carrier. So there she goes for her 15-min lock-up as punishment.
The 1st time she was locked up, she kept meowing to be let out. The 2nd time, I think she quite enjoyed her stay inside~! *Roll eyes*
And why was there a cockroach leg buried inside the litter? >_<"
Coco sniffing at the smell of antiseptic deodorant after her 2nd pee accident just beside the bin. She likes to pee near the wall of the litter bin, and occasionally, she forgets to squat low enough... >_<"
Surprise, surprise! She didn't finish her favourite
Fussiecat
two nights ago, and didn't even touch the wet food last night (shocking!). I wonder if there was anything wrong with the can of tuna salmon? Anyway, I'm not giving her any wet food tonight, since she didn't clamour for it. It may even be more convenient for the cat-sitter to skip the wet food when we go away for a vacation next month.