Update on Sat, 20 Sept '08

: Shiny's 3rd eyelid on her left eye has receded a little bit more, and the swelling on her right eye looks a little smaller (or was it my wishful imagination?). Anyway, the left eye definitely looks better, which is a little bit comforting for me.
I'm hoping to increase her weight a bit within this 3 to 4 weeks before we travel. L (who's concerned about Shiny) will also be travelling, and she's asked her neighbour C to feed Shiny during our absence, which is great (must remember to pass some

RC

dry food to them). I'm worried that Shiny may not be getting regular meals from her usual household as the domestic helper has gone on leave, or Shiny may get chased away by the ginger pair of Humm Humm & Jambala (that's what the domestic helper told me).
~ ~ ~ ~ ~ ~ ~ ~ ~ ~ ~ ~ ~ ~ ~ ~ ~ ~ ~ ~ ~ ~ ~ ~ ~ ~ ~ ~ ~ ~ ~ ~ ~ ~ ~ ~ ~ ~ ~ ~ ~ ~ ~ ~ ~ ~ ~ ~
Almost 2 weeks have passed since we started giving Shiny the eye drops treatment, twice a day (except for the first two days).
She seems weak at times, and unable to eat much dry food, which kind of tickles her throat and makes her cough. I've started to give her dry food softened with water and less canned food, hoping that she can gain weight with the intake of more dry food, but sometimes, she seems so hungry that I give in and feed her one whole small can, which she eats enthusiastically.
While her left eye looks clear (although still has 3rd eyelid), the swell in her right eye seems to have stopped improving, so we've decided to stop the eye drops today and will keep observing her.
The Indian cleaner in the area, who'd once lectured me about clearing up many months ago (when I didn't even litter) has gotten used to our feeding Shiny and has never bothered us with her lecture again.
Whether she likes it or not, I have started to tell the other lady feeder (who's concerned about Shiny) that if she does feed, she has to please ensure that she clears up afterwards. On a couple of occasions, we've had to clear her leftovers the next day, which by then had attracted hordes of ants and several roaches. I worry that Shiny may get bitten by the ants and I sure don't want the cat-tolerant residents there to start complaining of the litter left at their doorstep. Even I would not like that, no matter how tolerant I may be of community cats.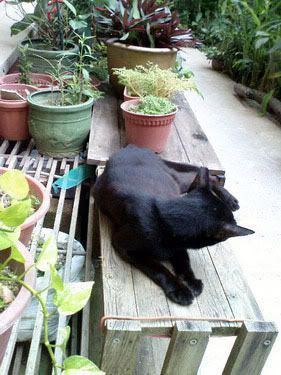 I would say the residents and even the two Indian cleaners are cat-tolerant, because so far, no one has removed the small plastic bowl of water which I have left there for Shiny for about a week. I change the water twice a day, and change the bowl to a different one everyday, so that they know the water is fresh and won't have to worry about mosquitoes breeding.