Last night, on the way back from feeding Shiny and having dinner, we met b/w Mimi, whom we haven't see for weeks, and Kiddy.
After giving them snacks, b/w Mimi insisted on following me about. I carried her purring body...thought I'll sit on the bench with her for a while, when suddenly, a
swoosh
of white fur jumped onto the bench first. I thought it must be Kiddy, but Mimi jumped off my arms and ran away!
It was Sugar. Mimi sure knows to not mess with The King~!
Sugar looks good, ate a bit of dried food and still followed me about. I lured him away to a corner where we'd first met years' ago. We have yet to move into the flat then and I'd come by to see the progress of the house painting. On the way out to the bus stop, I saw this big, white friendly cat with touches of ginger on his coat. That was how I first met Sugar.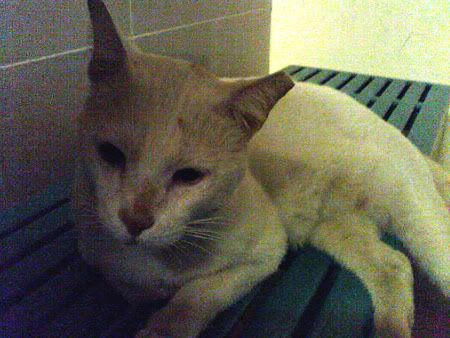 I sat with him, brushed off the loose fur from his coat and just rested there with him, but he didn't allow me to rest for too long. He gave me a couple of gentle nips on my arm and hand to remind me to get back to work - of giving him strokes and neck scratches! Haha... so adorable!
After about 20 mins, I had to go home and shoo-ed him from following me home.
This morning, I met the other King, who lives a little further away. I hadn't see Tiger for a long while, and I heard that he's somehow become a daytime house cat in somebody's home. :)
I was carrying groceries and didn't intend to call him, but he decided to follow me... he must have smelled the cat food in my bag! So
boh pian lor
, had to give him some food, not that he's deprived.
While he was eating, cat-friendly neighbours stopped by to say hi and to stroke Tiger.
Waa
, this king certainly has more than a few fans.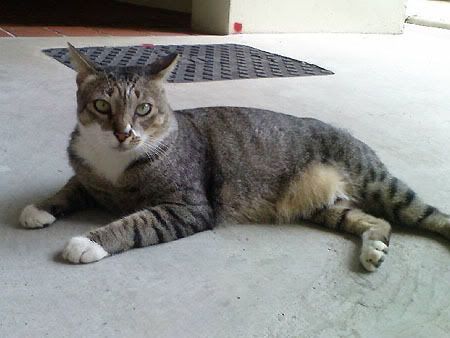 Finally, he gave me a good front view shot of him.
After eating, he still followed me about. The normally aloof fella even gave me several affectionate rubs, then decided to park himself in the middle of the passageway.
A kid on his scooter and aunties pushing trolleys of groceries had to move around his royal highness, but they didn't seem to mind, and even greeted him by name. :P