Mommy says she has to stay away from the PC, so asked me to blog my report on my PI work! She said someone's been asking about the origin of some cat food that we have at home, so I have to make a convincing case that they aren't made in PRC!
Waa... why me?!?
Here's a big bag of Sanabelle Adult formula which was purchased recently.
Here you can see that I am looking high and low for the country of origin, which means the country where it is made. It was really quite hard to find it, as my England is not so powderful yet, you know!
Ahh, here it is! I've found it!
Next, is a bag of RC which comes in 3 types and shapes. The bag say it's a formula for "special" cat... yes, special cats just like me! :)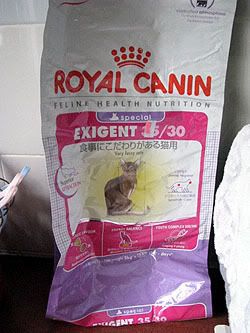 But mommy say "special" just means it's for extra fussy type of cats... like me.
*Angry*
So I tried to look for the country of origin... there were so many small words...
Finally, I've found it too! Mommy says I did a good job and gave me extra salmon treats. After that, I was so tired from my PI work that I went straight to take my beauty nap.