The cat sisters got their hong bao treats for CNY - Catty Man bream fish slice.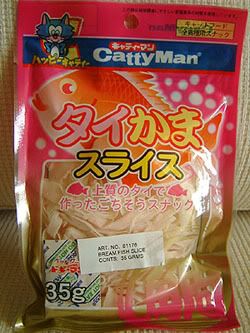 Although there's only 35g for a small $5 pack, there's actually quite a lot of bream strips which I would peel into small pieces to hand-feed the two cats, piece by piece. I'd even tried a piece of it...it tasted like dry fish cake. The rest are kept in the fridge.
The 2-seater sofa was also transformed into an Indian settee, covered by a table cloth from India.
There was too much cat hair on the sofa, and the cover helps keep the cats from scratching the sides. The table cloth was a gift (many years ago) from an ex-colleague (Neelam) who brought it back when she visited her home in India.
The cats seem to enjoy the feel of the table cloth, and so did I, actually. It felt soft, smooth and cool to the touch...very nice. :-)
Maybe I can look for a bigger piece of plain-looking table cloth to cover up the large 3-seater as well.