This was reported in the Chinese newspapers today.
Man was jailed for 1 week and fined $3000 for hitting and breaking the Siberian husky's left leg. What's interesting was that the Siberian husky belongs to the man's soon-to-be brother-in-law, and it was the dog owner (i.e. the victim's younger brother) who reported the cruel act to the authorities (some vetrinary association?) . Relations between younger brother and sister have soured and for the first time, sister did not go home for CNY reunion dinner.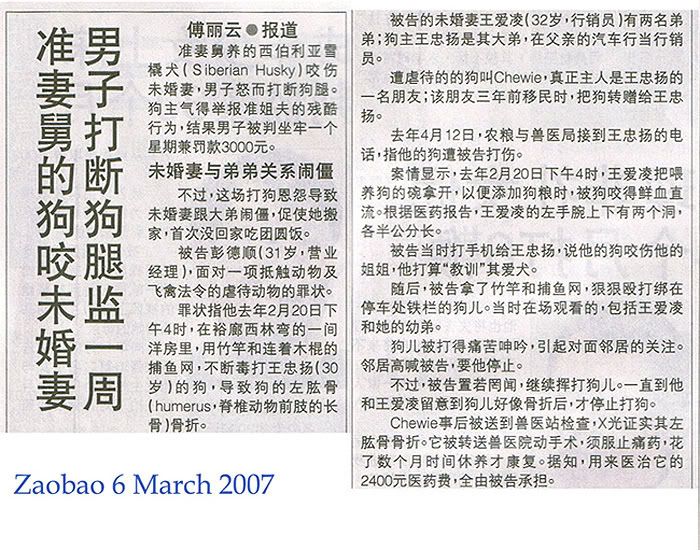 Part 1 Briefly translated:
The dog belongs to man's fiancee's younger brother. Dog bit man's fiancee, so in anger, man hits dog with bamboo pole and fishing net. The dog was then tied/chained to some metal railing at the parking area. The sister/fiancee and another younger were present and did try to stop the man, but man continued hitting the dog until neighbours (who heard the dog's painful screams) interfered. By then, the dog seemed to have broken its leg.
The dog was sent to the vet and x-ray confirmed its broken leg. Dog spent months recuperating and the $2400 vet fees were borned by the man (who hit dog).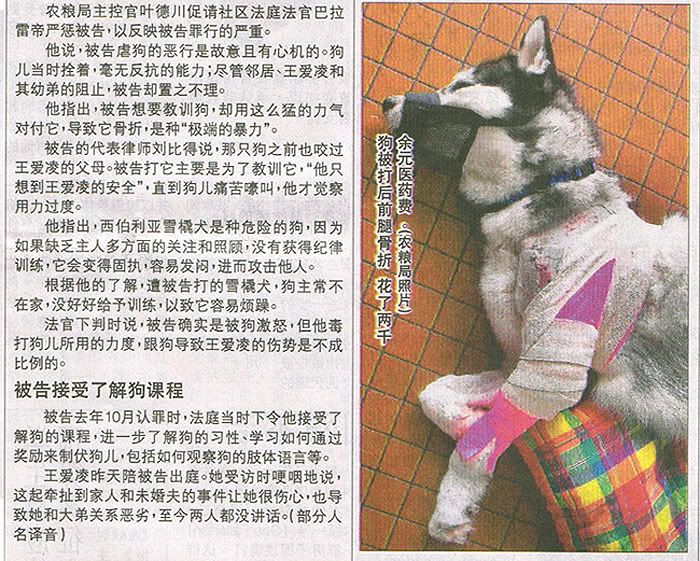 Part 2:
This part is about the court proceedings and arguments about whether man's act was pre-meditated. The dog had also bitten the siblings' parents previously. The dog had not been sent for proper training, and was often left alone at home, resulting in boredom and frustration.
The charged man was also sent for a course on understanding dogs/communicating with dogs. His fiancee (the victim) is sad that relations between her fiance and those at home have soured, and she still had not spoken with her younger brother.