Name: Ronnie

Age: 4-month old (est'd)

Coat colour: Cream with ginger markings (quite unique!), with a long, straight tail.

Characteristics: Very sweet & affectionate purrsonality, loves to be sayang-ed by humans, gets along with other cats and litter box-trained
.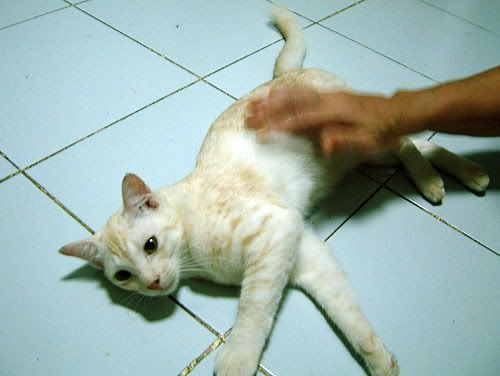 Ronnie was dumped outside Aunty G's home when he was just a few weeks' old. Hearing his frantic cries in the wee hours of the morning, aunty G took Ronnie in and has been caring for him since. Aunty G is currently facing both health and financial problems, so she's decided to rehome Ronnie and another "Panda" b/w cat.
During a home visit, aunty G was rushing out to feed the community cats, so I only had time to take a couple of Ronnie's photos. "Panda" kitten will have to wait.