Very sorry for the posting this late, but I was supposed to post pictures of the lovely presents and cat treats which cat aunty and EJ had sent to Coco (c/o auntie p!).
I've been on leave since Friday and been running about doing stuff, catching a free movie, catsitting Spud the neighbour's cat and spending time talking to the customer service personnel of my hp distributor (which didn't help) and then to my mobile service provider to get my new hp settings right! All I can say is, Starhub Mobile's customer services is wonderful and I am a 100% satisified customer. :)
Oh, I'm sorry to have checked my emails late, which made me miss out on a chance to meet ksn and her cats. :-( Sorry ya, ksn.
Here are the lovely cards and gifts that we've received on Christmas eve.
Suddenly and for once in its lifetime, our mailbox was fully-laden with lots of stuff on Christmas eve! These were just some of the stuff that came in the mail.
Here's the lovely package from cat aunty. The SO was very tickled by the fact that someone would actually send a teddy bear to...a cat! Actually, he's very tickled and somewhat amused that cat lover folks would send cat pressies to cats that they have not met. *grin*
I told him our love for cats helps to bring people together, you know!
Ccoco checking out the presents; I don't know how she feels about the teddy bear, but I love the cute bear!
While Coco gets the presents and treats, I get the cards and good wishes.
Thank you cat aunty and EJ. :)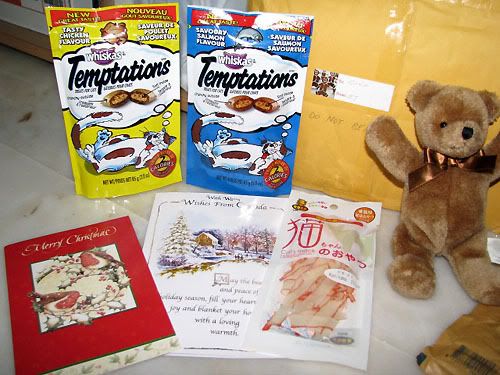 Coco sniffing out the rest of the gifts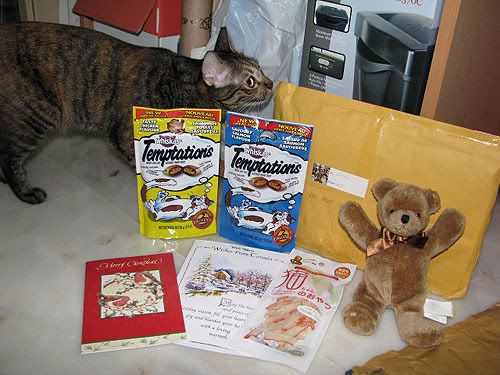 Coco really loves the
Temptations
treats, as much as she loves
Angel's Salmon Sashimi
treats (which I've yet to see any cat reject)! Since I gave her the sashimi treats, she's been crying out for treats every morning, or she may refuse to eat her breakfast.
I haven't open up cat aunty's cat treats, but I'm sure Coco will love it too, as it looks like the
CattyMan
fish/shrimp slices which Coco loved.
Speaking of
CattyMan
, they seem to be out of stock at the pet shops at the moment. I've been told the stocks are late coz AVA needs to test the ingredients/components. I guess it's good to know that our pet food supplies too, are regularly checked to ensure they are safe for our pets' consumption.