After trying out several types of cat litter (coarse, fine, superfine) and a couple of methods, we find that this is the best way to minimise cat litter tracking.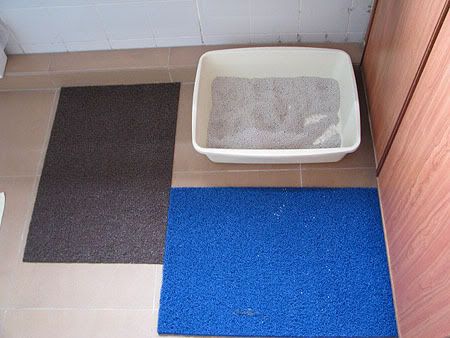 (Picture shows the L-sized litter box which we alternate with the other XL-sized one)
It looks a bit cluttered with the 2 pieces of rubber floor mat, but it sure beats having to sweep the kitchen floor a few times a day!
Of course, I should have bought 2 pieces of same-coloured floor mats and better colour-coordinated them with the floor tiles, but I had only found the 2nd thinner (brown) mat much later...oh well.
If your cat uses a covered cat litter bin whereby there is only one single doorway to enter the bin, then you'll only need one piece of floor mat to be placed next to the entrance (to catch the stray bits of litter from cat's paws).
HAIRBALL ISSUE
:
I've been feeding Coco basically
RC Indoor 27
, plus another type of cat food, just to add variety and encourage her to eat more. Currently the 2nd one to add flavour is
Nutro
dry, chicken with salmon flavour, which comes in interesting bigger, flat fish shapes. We'll still stick to
RC
as the base food, coz I find it's good in controlling hairball and minimise vomitting.
I sometimes check Coco's poo, just to test the texture, but one day, while using a clear plastic bag in its disposal, I was intrigued to actually find a small clump of cat hair stuck to the poo.
ADVANCED WARNING:
I have a picture of the poo, but it may not be in good taste to some to post it right up front, so
PLEASE DO NOT CLICK THE LINK BELOW
if you may be offended by it.
Warning : Scary picture ahead !!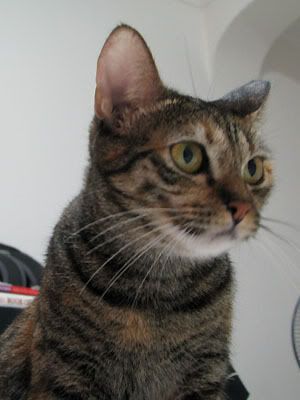 Click here if you really, really, really wanna see the picture, or can't control your curiousity any further.
Picture of the hairy
poo
.
:P