During the week, I finally saw two rather elusive cats, which I haven't seen for more than a week.
Sugar
- He doesn't hang out as much at his regular place. Ms A the caregiver thinks he's hiding from her, to avoid taking medication!
He seemed hungry and came to me, wanting food. I gave him the only dry food I have, and he ate a bit. I tried to clean the debris on his chin, next to his mouth. He'd refused and ran a few feet away. When I persisted, he suddenly cried and jumped/ran off. I think his gums are still hurting.
It took some effort, but I finally coaxed him to stop running away from me, so that I can placate him and say sorry, and
sayang-ed
the poor boy a bit.
Saw him on another day when I came home after work. I thought wet food would be easier on his gums and have resorted to carrying a can in my work bag, but he refused to eat.
He just laid on the cool grass while I patted him, resting. He seemed like very fatigued and looked kind of down. When the SO came back after his swim, I asked him to go look for Sugar to
sayang
him, which kind of cheered Sugar up a bit, as he had begun purring.
After dinner, I went to look for him. After playing hide & seek with me for a while, he finally came near me and let me be near him. He didn't want any food, so we both sat there in the cool evening breeze for a while. He did act
manja
and rolled on the floor for some
sayang
, so I hope he'd felt better. I saw him again tonight, and again he refused the wet food, and ate a few kibbles. Also saw Jon-Jon tonight... he has slimmed down a little, although he ate normally this evening (not so picky, at least!).
Mimi
- I have no idea where Mimi hangs out during the day, but finally saw her a few nights' ago and again, tonight.
She's grown longer, but her face is still kitten-ish. The fur has grown back on the shaved patch on her lower tummy. She's healed well from her spaying.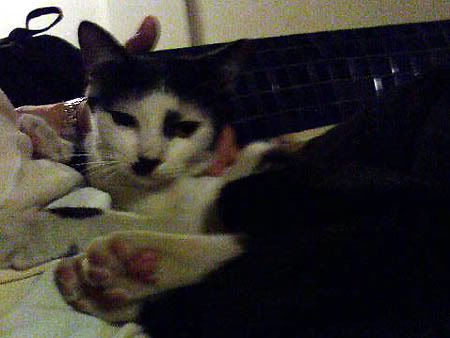 Tabby2
- went to feed him some wet food this evening, and saw a patch of dried leaf stuck onto his rump.
It was chewed up gum. I tried to remove it as much as I could, but it was impossible to remove it all without cutting off the fur. So I stuck a small piece of tissue onto whatever gum that remained stuck on him... will see if I can remove more of it tomorrow.
Throughout the process, the affectionate boy didn't protest at all, but kept purring and started kneading...so happy with all the attention from me. :)