On her way back from the market, Ms A saw Jon Jon and planned to take him to the vet in the late-morning. Later, despite circling the area a couple of times, JJ was nowhere to be found.
JJ was diagnosed with kidney failure more than a year ago (since Dec 2006). He's had repeated episodes of "fasting" or anorexia, whereby he would refused food of any kind for many days on end. If not for the persistence and dedication of caregiver Ms A, JJ would have died last year, or even earlier. It has taken Ms A much time, energy, costs and many tears (I'm sure) that JJ is still living.
We will try to find him this evening. The main thing now is to get him to the vet and see how things go from there.
(Jon Jon, 5 July 2008)
Update at 10pm:
JJ was found early this evening and taken to the vet. As expected, the prognosis was bad. His kidneys had failed and his eyes were glazed. He was put to sleep to relieve him of his suffering. JJ passed on peacefully, after Ms A spent some quiet time alone with him. He will be cremated in a new cat bed that Ms A bought for him.
Rest in peace, Jon Jon. You have been loved. May you be reborn into your next life as a kind human being, who will show the same loving kindness and compassion that Ms A had shown you all these years.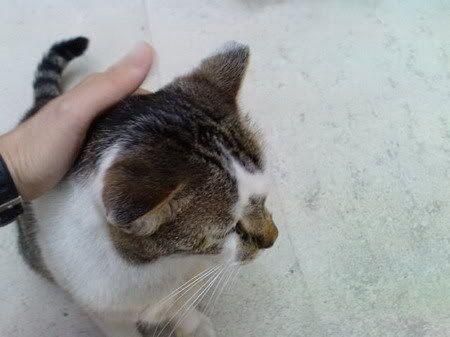 (Jon Jon, RIP 10 September 2008)