I thought we had sensational weather 2 days' ago, on Tuesday. The whole day was cloudy and I didn't realise there had been a slight drizzle in the late-afternoon, until I stepped outside on my way home.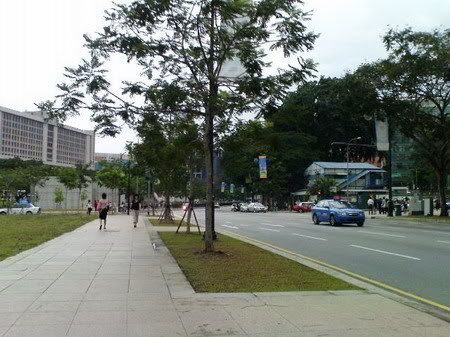 There was a nice ,cool breeze and the temperature felt like 23 to 34 degrees - it felt like a temperate country! The SO was somewhere else and he too, thought the same.
Shiny from another area, in a photo taken in mid-June. He had lost weight, and lately, is sick and has eye discharge. He is still eating lots though.
I have been missing this boy and last week, was just wondering what had happened to him, when lo and behold, he appeared before us yesterday!
BT has returned! He wasn't in a sociable mood, although he did come to headbutt my legs initially.
He has put on some weight and has a slight bulge at the tummy. Hmm...perhaps someone took him in? His coat doesn't look as smooth as before though... poor food is suspected. I hope he hasn't been thrown out now.
I went to the pet shop to get some canned food for Coco. As usual, Milky the chihuahua now knows how to seek me out, whether by the sound of my voice, my scent, or by whatever means!?!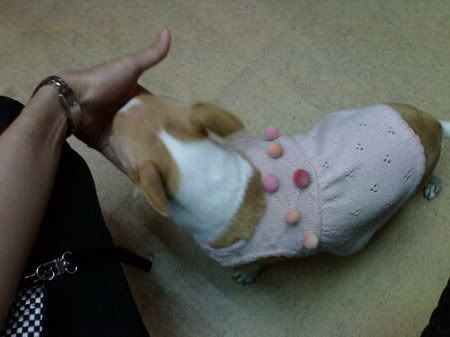 Pet shop aunty said Milky only does this to 2 of her customers, and one of them is me.
Wow, I'm so honoured! She will make some odd noise until I stroke and carry her, and she will give me her specialty - doggie licks! I love to see her, as she 's so small, round and cute, just like a small roll of honey-baked ham. Best of all, she makes me feel so well-loved. :D
Here's Mimi Tortie Gal, happily being cuddled in the arms of her Singapore Idol... purring away like an engine.
Here's Tabby2 aka Azmi, being held against his/her wishes. All along, we'd thought he's a boy, but recently, we realised he/she really has got totally "no balls", so the SO suspect maybe he's a she!
Haha! Just like we've always thought Shiny was a she (due to the small size), until one day, we realised maybe Shiny is a he! Anyhow, it doesn't matter. We still treat them the same.